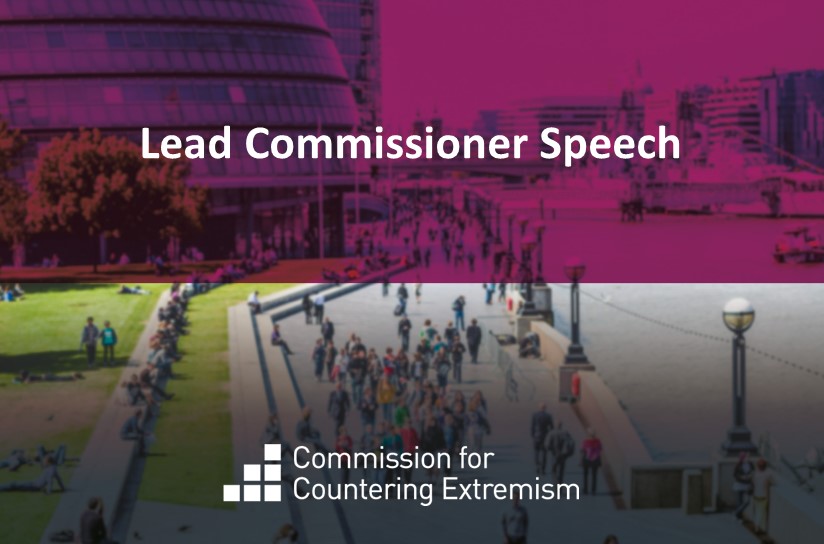 Good afternoon everyone and firstly thank you Lucy for organising this incredibly important event and for inviting me to speak today. This is such a timely and important issue. We saw last week the events in Germany, the murder of 8 people is a horrific reminder of the threat of extremism.
Many countries across the world are grappling with this threat. We are seeing a rise of Far Right extremism, Islamist extremism, Hindu nationalism and other forms of extremism. And so let's be very clear no country is immune from extremism including our own.
Some of you may have heard of this week Dave Thompson, vice-chairman of the National Police Chiefs' Council stated that Far right extremists are growing in number and are more intent on committing terrorist attacks in our own country. This week the Home Secretary announced two extreme right wing groups would be proscribed.
For those of us who have worked in the counter extremism field over the years, the rise of the Far Right has come as no surprise.
We are seeing worrying trends, some of which have been highlighted today. From an increase in activity of Far Right actors to Channel referrals for Far Right extremism now accounting for nearly half of all referrals for the first time ever. And while Islamist terrorism continues to remain the biggest threat, Far Right terrorism is the fastest growing. Last year we also saw the biggest Far Right marches in a generation, many of which will have been in the cities and towns in which you work.
The challenge of online extremism is deeply concerning. The Far Right have always been quick to adopt a variety of emerging online tools, to connect, to radicalise others, to spread their propaganda and to co-ordinate their activity. The scale and reach of Far Right extremism online is eye-watering.
This small snapshot that I've given is telling us something. It is telling us that the red lights for Far Right extremism are flashing. We need to grapple with this threat and that's a message that I know, everyone in this room gets, because you wouldn't be sat here if you didn't.
Now I don't intend to provide an overview of the Far Right in our country today. Professor Matthew Feldman, DC Ray Eaton and Gareth Harris have done an excellent job this morning doing that already.
What I would like to talk to you about today is the importance of strengthening the counter extremism field more broadly. Over the last 18 months having examined extensive evidence about both extremism and counter extremism including reviewing the current national approach - it is clear to me we need to better standardise the counter extremism field to help us collectively better identify the problem and ensure we actually have effective responses.
Even among counter extremism practitioners that I have spoken to across the country, I have been struck by the conflicting views that exist when articulating what they define as extremism, what are the behaviours we are concerned about, what are the outcomes we are working towards and ultimately what does success look like?
There is no consensus on these most basic and vital questions.
And while there is good work happening - including by many in this room - there are also many obstacles in this field and I believe this is hampering our ability to respond more effectively to the threat.
One of my first tasks as Commissioner was to carry out a review of extremism in our country and an assessment of counter extremism efforts. I have travelled across England and Wales, spoken to thousands of people, launched the first ever public consultation on extremism, commissioned 19 academic papers, held dozens of roundtables and gathered extensive evidence.
My report "Challenging Hateful Extremism" was published in October – and I am in no doubt that everyone in this room has read all 143 pages of it!
Our evidence highlighted how the word 'extremism' rather like the term 'moderate' and 'mainstream' is an incredibly subjective term which means different things to different people. I've found that as soon as you bring 10 people round the table and ask them for a definition of extremism, you will get 10 different answers back – including from those who identify as counter extremism practitioners.
This to some extent highlights the current problems facing the counter extremism field. Quite simply if we don't agree or are not concise on what the problem is, or what the behaviours are that that we are seeking to address, inevitably we are not going to agree on what countering extremism should look like or where we should be targeting our resources or efforts. These are some of the concerns I had of the current Counter Extremism Strategy but I will come to that shortly.
Critical examination of the evidence we gathered did manage to find consensus on the types of behaviours most concerning. My report shows violent extremism and terrorism as one category but also a different and distinct category of extremism which we've identified as hateful extremism.
Why does this matter? It matters because they are not the same types of behaviours and importantly they require different approaches and responses. Hateful extremism sits below the threshold of terrorism although it can contribute to creating a climate that is conducive to it.
For years we have struggled to deal with hateful extremist groups, whether Islamist or Far Right in our country because they didn't meet the threshold for terrorism, we were paralysed as to what we can do. As a result to some degree they have been acting with impunity in our country.
Unlike violent extremism and terrorism, dealing with hateful extremism through the security lens would often be ineffective and in some cases, counter-productive. But marking out clearly this type of extremism is vital.
So what do we describe as hateful extremism? It is based on 3 pillars: behaviours, beliefs and harm. My report shows how hateful extremists are inciting and amplifying hatred, engaging in persistent hatred and making the moral case for violence.
They draw on hostile or supremacist beliefs directed at an out-group who are perceived as a threat to an in-group; and they are causing serious harm to individuals, communities and wider society.
Recognising this as a distinct form of extremism and giving it a name helps us to pinpoint and crucially identify the behaviours we are concerned about. To date this has been lacking in the counter extremism field where it is not clear what we even mean by extremism.
As one would expect responding to violent extremism and terrorism has often been the predominate focus of counter extremism efforts – but what has been missing is recognition of the harm caused by hateful extremists and how hateful extremism is often the precursor to violent extremism. At the same time hateful extremism is a form of extremism in its own right with its own harms outside of terrorism.
These include: hate crimes, attacks on places of worship, creating a climate of fear and censorship, economic harms, social division and the undermining of cohesion, our democratic norms and principles.
It would be wholly wrong, as some do to only focus on the violent extremists in our society. History has borne witness to the roles played by those who were responsible for proliferating and disseminating hateful extremist propaganda about the other or out-group. Propagandists who sought to normalise and mainstream such hatred in societies and who sought to recruit people to their ideological worldview. Their roles were pivotal.
And this requires a different policy response and it is why I am calling on the Government to develop a national strategy to focus on hateful extremism.
Hateful extremism is most powerfully demonstrated through stories. Not far from here we give the example of Sunderland.
How local, national, and international Far Right activists co-ordinated their activity seizing on local on tensions about asylum seekers culminating in 13 marches in 13 months. Thousands of people attended. Local businesses were affected.
We heard of anti-minority hatred online and offline; of increased social division and attacks on Asians. I don't think I will ever forget the story of one Muslim resident I met at the local mosque who cried as he told me how Far Right activists had targeted him by calling him a paedophile online, and how that had impacted his home, social and work life. The lack of response including criminal prosecution is utterly unacceptable.
Conversations I had with white communities expressed concern that more people in the area now supported Far Right ideas unlike previously. Far Right activists used social media to co-ordinate their activities, recruit and to spread hateful propaganda.
The ability to respond quickly and effectively was initially a challenge for the authorities but what this case study showed - as did so many others that we examined - was that such incidents could blow up almost overnight and gather pace very quickly in any area of the country – and many towns and cities would struggle to respond.
What we found was that hateful extremists are incredibly effective at seizing on local tensions to further their own insidious agendas, deceptively co-opting the language of free speech or even women's rights in an attempt to promote anti-Minority hatred.
In my report I show how hateful extremists have professionalised their effectiveness; their ability to co-ordinate locally, nationally and transnationally both online and offline demonstrates what counter extremists are up against.
When reviewing counter extremism efforts more generally, in contrast I have been struck by the lack of co-ordination and consensus. The lack of funding outside of government funding especially in the philanthropic world who more often than not judge counter extremist work to be 'too risky.'
There is no clear shared understanding of the evidence base on what strategies or tactics are effective. When the Commission carried out a literature review it was telling how much was based on opinion as opposed to empirical evidence.
Having reviewed the Government's then ground breaking 2015 Counter Extremism Strategy, the first of its kind globally which recognised the harms of extremism outside of terrorism, I show how it is too broad, unfocussed and in some cases entirely irrelevant.
The Strategy is based on a vague and ambiguous definition of extremism, a definition considered unhelpful by 75% of public respondents to our consultation. The definition is wide ranging and confusing yet it is used by officials to analyse and interpret extremism, to shape policy and respond to extremist incidents.
There were times when the Commission's view of extremism did not match up with the Government's analysis because of their use of the 2015 definition. As a result the government has often been too slow to identify and respond to hateful extremism incidents.
I often found well intentioned counter extremism approaches to be ineffective, nor targeted to successfully respond to the pace and scale of extremist activity. Unlike counter terrorism, counter extremism lacks an operational infrastructure despite the clear and present danger.
The Strategy has also aged badly – 5 years is a long time in the world of extremism and the world is very different place today compared to 2015.
As one example - the use of social media. Extremists have fully exploited unregulated social media, their ability to spread extremist propaganda, conspiracy theories and disinformation is unprecedented. It is part of their bread and butter tactics. While we rightly focus on the threat of disinformation from foreign states there is no policy response to homegrown extremists who are engaged in this daily information war. The erosion of trust and truth that results is a threat to our democracy.
There have been some good aspects of the Strategy such as the funding of civil society groups and creating a network of community co-ordinators. I have spoken to many organisations and community coordinators about the work they are doing to counter extremism, they play a vital role and I fully support their work.
But the Counter Extremism Strategy needs to focus more clearly on challenging hateful extremism. As it stands there is no active strategy to counter hateful extremism today. It is the weak link in our broader counter extremism approach.
So, I was pleased to see that during the election the Prime Minister committed to a new Counter Extremism Strategy. He rightly stated the current Strategy hadn't kept up with the changing threat.
I have written to the Home Secretary to ask her to prioritise this work.
I was also pleased to see the Conservative manifesto commit to do more to protect those who are countering extremism. This was something the Commission highlighted.
Three quarters of the counter extremists we surveyed have experienced abuse, intimidation or harassment because of the work they do. I myself know what this feels like and it has dissuaded so many other good people from wanting to get involved in this work because of the toxic abuse directed at counter extremists. We must challenge this and I would welcome your thoughts on what you think should be done.
Now I know I haven't painted a very pretty picture. The challenges within counter extremism are real but I am also filled with great optimism because I believe there are many opportunities to truly develop this field. I believe this is vital cutting-edge work. More and more countries are rightly recognising the importance of this work. With the right focus and effort we can work towards ensuring greater clarity, consensus and language on both extremism and counter extremism, starting with the government's new Counter Extremism Strategy.
My report shows that if we focus on hateful extremism, it is possible to find that consensus, reconcile our human rights principles and maintain a robust response to extremism.
As well as a clearer definition, the new Strategy must respond to the three pillars of hateful extremism: behaviour, beliefs and harms.
We need to join up the response nationally and locally so we can quickly and effectively respond to hateful extremism.
My Commission has already started work to do this. We're introducing the first-of-its-kind pilot task force. We will be gathering national and local stakeholders to tackle live incidences, as they happen. We also intend to evaluate and measure our interventions to help build the evidence base on what we know to be effective.
My report also commits to a review of the legislation that relates to hateful extremism. This review will assess whether there are gaps in the law or its implementation that are allowing hateful extremists to act and cause harm with impunity. Once the research is complete I will be making recommendations on how the response could be strengthened.
We are keen to start work on identifying indicators of hateful extremism which could be measured yearly to help assess the trajectory of extremism in our country. As it stands there are no such indicators; in our report we have had to rely on proxy indicators such as Prevent referrals and hate crime statistics but we need to be more specific to help us understand the scale of the problem.
Finally, this new Counter Extremism Strategy must dovetail with commitments on online harms and the Online Harms Bill.
Social media has been a game changer for extremists.
Inconsistent policies, anonymity, algorithms that tend to the extreme and private groups all contribute to an environment of hate and incitement to hate.
Challenging hateful extremism is not just a job for Government – or indeed the tech companies. It requires fundamentally a whole society response. Leadership is essential. Not just from our political leaders, but from NGOs, faith bodies and community leaders.
I would like to see more innovative academic research in this field.
I would like to see more of civil society getting involved in this work.
I'm optimistic because I've met many people across the country who are playing their part locally and nationally. Including all of you here.
I'm optimistic because this debate so often polarised but where we are now finding practitioners, policy-makers, experts and activists excited about the Commission's approach. It provides clarity and protects democratic debate.
More and more people in our country are concerned about extremism. 52% of those who responded to our call for evidence had witnessed extremism in some way - many in their local area. It's no surprise therefore that 78% of people believe more needs to be done to counter extremism.
I believe where once counter extremism was a rather niche field there is now a real opportunity to fully mainstream counter extremism work in our society, an outcome that we need to develop over the next few years if we genuinely want to get serious about tackling Far Right or any other form of extremism.
Above all we've got to get better at promoting a positive vision and outlook for our society: an inclusive, plural and peaceful Britain in stark contrast to the divided, hate-filled society hateful extremists are working towards. We have to recognise a great deal of counter extremism is actually a battle of ideas and narratives. How effective and convincing are we in promoting better ideas and narratives in contrast to extremists?
I want to end by saying I believe Britain is one of the most inclusive and diverse countries in the world. Our commitment to pluralism, equality and human rights is not only embedded in our legislation – it is part of our social fabric.
I believe this is partly why, unlike other countries across the world who have embraced an extreme nationalism, Britain has – so far – managed to escape the clutches of this growing global phenomenon.
The worst mistake we can make however is to ignore the growing signs of hateful extremism. There is no room or time for complacency. Nor can we develop a selective bias in addressing one type of extremism while turning a blind eye to others.
Over the years as a counter extremist myself, I have learnt countering extremism absolutely depends on bold and brave leadership. We have to recognise that inaction or silence in the face of extremism can never be a response. In fact that is the worst of options.
I've personally taken inspiration from the words of Albert Einstein when he said:
"The world is a dangerous place to live not because of the people who are evil but because of the people who don't do anything about it."
I believe this is what embodies counter extremism, it fundamentally captures what counter extremism is about.
We are all responsible for playing our part.
But I believe it's by only working together, can we meet this challenge. So thank you for all that you do, the efforts you make in combatting extremism and upholding our democratic values and I welcome any questions you may have.
Thank you