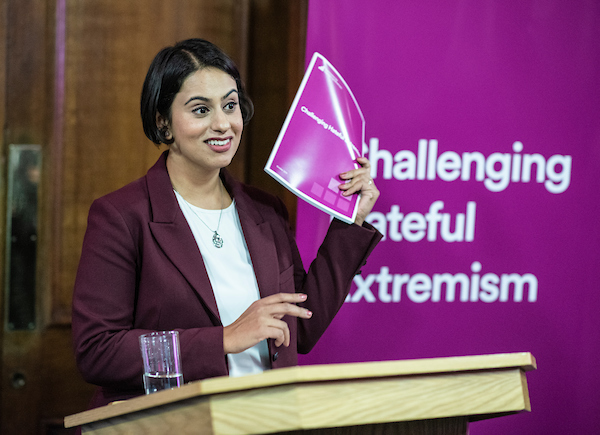 Our Lead Commissioner Sara Khan has given a speech thanking everyone that has contributed to our new report Challenging Hateful Extremism.
She told all those countering extremism to stand tall and that the Commission is here to champion their work.
The report, which calls for an overhaul of the Government's counter-extremism strategy and a new focus on hateful extremism, was published on Monday 7 October.
At an event to launch the report, Sara stressed the importance of engagement.
"I've had some of the most fascinating and fiery discussions about what the E-word means right across the country. Taking this broad-based bottom-up approach mattered to me, because for too long extremism - and counter extremism – has been treated as some sort of nice specialism.  It isn't.
"It is being experienced by many people and is occurring in many of our towns and cities right across the country. And so I wanted to hear the views of people we don't frequently hear but whose insight is important.  The views of the wider public, victims – whose experiences have rarely been acknowledged, and those on the frontline who too often experience abuse rather than support.
"And when I took on the role as Lead Commissioner, I was acutely aware that unless a clearer language, and a greater clarity of what we mean by extremism alongside a strong foundational basis for this work was established, we will not see the sea-change that is so desperately needed in our country.  I want to see counter extremism mainstreamed in our society. That has always been a clear objective for me."
Hateful extremism
She explained what we mean by hateful extremism.
Sara said: "Whether intense anti-minority Far Right activism in Sunderland or anti-LGBT Islamist activity in Birmingham.  Whether it is farmers being harassed, abused and intimidated because they are going about their daily business earning a livelihood. Or secular Bangladeshi bloggers who face threats and intimidation because they call out and oppose Islamist extremism – some of whom I met are currently in hiding.
"Or Far Right activists who praised Thomas Mair's murder of Jo Cox MP, or Islamist activists who support convicted terrorists and invite al-Qaeda preachers to their events… this amplification and inciting of hatred against others, this engaging in persistent hostility and harassment, this equivocation about violence – all of which draws on hateful, hostile and supremacist beliefs – is causing serious harm.
"Hateful extremism demands a response; it cannot be ignored. By either Government, tech companies, faith leaders, human rights campaigners, civil society groups and others."
Just the beginning
But Sara stressed that the "report is just the beginning" and the "real hard work starts now".
"My Commission will begin immediately – among other things - work on developing a definition of hateful extremism; as well as a review of existing legislation, as well as developing a network. In essence we need to protect victims better; respond faster and more effectively to extremist incidents and finally better challenge hateful extremists.  Through a proportionate, rights-based and victim-centred approach."
Sara thanked everyone who has engaged with the Commission and contributed to our work.
"This report wouldn't have been published today had it not been for your engagement, your assistance, your support, your evidence, your academic papers, your stories and your time."
She ended by paying tribute to everyone involved in challenging extremism, work that Sara described as "difficult, challenging and too often abusive".
She said: "You were seen as troublemakers, and as bigots.  Yet you quietly took the insults and with dignity continued to expose hateful extremism in our country.  I know how hard that can be and the toil it takes.  Yet your contribution is vital – you are our unsung heroes, the backbone of our country.
"It may not always feel like it but your positive contribution is vital and all of us here today celebrate your hard work.  So stand tall, with pride and conviction. And for as long as I remain in this post, I want you to know that the Commission is here for you, to champion your work and to show solidarity with the critical work you do for our country."