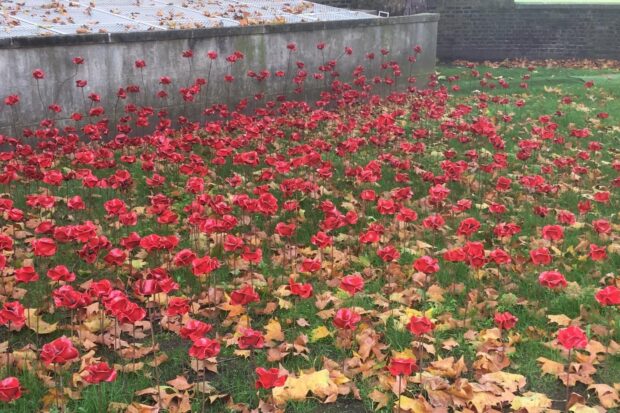 This Sunday is Remembrance Day and our country will pay its respects and offer thanks to the generation that served in the First World War.
The day will be all the more poignant this year as it marks the 100th anniversary of the signing of the Armistice and so the end of hostilities on the Western Front.
We must never forget the sacrifices our troops made and the hundreds of thousands of soldiers who never returned.
Tragically Far Right and Islamist extremists have always sought to exploit and denigrate our armed forces, including the commemorations of Remembrance Day.
In 2010, during the two-minute silence of Remembrance Day, Muslims Against Crusades, another name for the proscribed Al-Muhajiroun group led by Islamist extremist Anjem Choudary, chanted "British soldiers burn in hell" before one of their members burned a poppy.
In the same year, Islam4UK – yet another name used by Al-Muhajiroun after they were banned – planned to parade through Royal Wootton Bassett carrying up to 500 coffins symbolising those Muslims killed from the invasion and occupation of Afghanistan.
Royal Wootton Bassett is a market town now synonymous with the sacrifice of military personnel because the bodies of troops are brought home to the town. In direct response to Anjem Choudary, a group of Muslim women organised a memorial ceremony at the National Memorial Arboretum in memory of the fallen, co-led by our own Lead Commissioner Sara Khan. 
Meanwhile, Stephen Yaxley-Lennon, who goes by the name of Tommy Robinson, tries to manipulate his way into the mainstream by co-opting military symbolism, whether by posing with soldiers or delivering a petition to Downing Street 'against the political persecution of the Armed Forces'. Quite rightly, the Army has said that "Far Right ideology is completely at odds" with its values and ethos.
These groups and individuals ignore the fact that the soldiers of the First World War looked more like Britain today than we would expect. British Future has powerfully shown this through its Remember Together campaign, which highlights the often forgotten service of men and women of different ethnicities and faiths.
Among those fighting for Britain in the First World War were 800,000 Hindus, 400,000 Muslims and 100,000 Sikhs. 
They included Khudadad Khan, a Muslim from what is now Pakistan, who was the first Indian soldier to be awarded the Victoria Cross, the highest military award for gallantry, and Walter Tull, who died aged 29 the first black British infantry officer to lead men into battle.
The contribution of these courageous men and women of different faiths and ethnicities is not well known. When, at the start of the First World War centenary, British Future asked the British public to estimate how many Muslims fought on the British side in 2014, just 2% gave the correct answer of 250,000 to 500,000.
Extremists will always try to hijack moments such as this to divide us. We cannot let them. One way to counter extremist narratives on Remembrance Day is to foster a shared sense of history and a collective identity – exactly as British Future has done.
From our visits to 13 towns and cities across the country, it's clear that there is widespread concern that our country is divided. Our fear is that where there is hatred and division and a climate of intolerance, extremism thrives. Extremists themselves are contributing to the polarisation and the toxicity of public debate.
We've spoken to unsung heroes challenging extremists, from youth workers who push back against the Far Right to Imams who vehemently disagree with Islamist extremists. We are indebted to these brave individuals, but we cannot rely on them alone. As a society we need to do more.
That is why, as a Commission, we will shortly be calling on all those who work in counter-extremism, or fields related to it, to take part in our Call for Evidence.
We will be asking for views on, among other things, how extremists operate, the harms they inflict and what the government can do to strengthen its response. We will also be asking what a positive alternative to the extremists' world view looks like - an inclusive Remembrance Day is a great example of this. This will feed into a comprehensive study which we will publish this spring – our first step towards what we call a whole society response where we all play a part in defeating extremist ideas and activities.
As we mark Remembrance Sunday and a 100 years since the signing of the Armistice, we can do even more than remember, as important as this is. We can – and must - challenge those who use our precious shared history and identity to spread hatred and extremism.