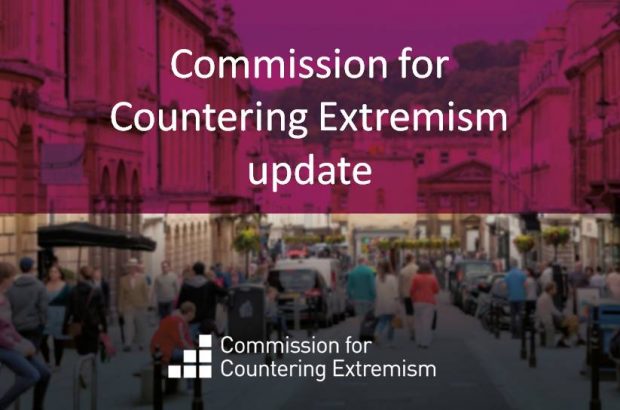 While touring the country and engaging with those who are countering extremism, one of the many concerns that are raised to us is the need for a positive and inclusive vision for our country. One that not only stands in stark contrast to the hate and intolerance promoted by extremists but which also actively challenges their narrow and dehumanising worldview.
One person who shared his thoughts to the media on who best represents our country was Breitbart editor Steve Bannon. On a recent visit to Britain he described Stephen Yaxley-Lennon, otherwise known as Tommy Robinson, as "the backbone of your country". Yaxley-Lennon was released from prison last week, and is now awaiting a retrial for contempt of court.
The hundreds of people we met on our travels made clear they do not believe people like Yaxley-Lennon are the "backbone" of our country, nor what our country stands for. On the contrary, it is the many teachers, councillors, faith leaders, women's groups and civil society groups we have met who are selflessly challenging hatred and promoting pluralism. Whether of Left or Right, British born or refugee, of faith or non, the diverse Britons we have met present an inclusive, visionary and competing picture of our country in comparison to Bannon, Yaxley-Lennon and their supporters.
Yaxley-Lennon's supporters complained long and loud about his treatment under the law before his release – yet that rule of law was why the Judges of the Court of Appeal quashed Yaxley-Lennon's conviction for contempt from Leeds. The rule of law has long been part of our country's tradition, as long as Magna Carta in 1215, yet too often far right supporters regularly and violently undermine this rule of law in our streets while claiming they uphold it.
The Far Right's activism in recent years has focused on child sexual exploitation cases. Yet it is those people like former Chief Crown Prosecutor Nazir Afzal who have worked tirelessly to secure justice for those child sexual exploitation victims in towns like Rochdale. Nazir fought consistently and effectively to bring the perpetrators to justice. Not to exploit their suffering for personal or ideological gain, nor to promote hatred against an entire minority group.
Despite the loud noise from the Far Right when it comes to tackling Islamist extremism, it is groups like Hope Not Hate that have carried out vital work in exposing Islamist extremists in our country, as opposed to engaging in anti-Muslim bigotry on social media. The anti-racist group did phenomenal work in identifying the scale of activism carried out by the now proscribed group Al-Muhajiroun. The Commission has also met a number of Muslims, both male and female who are actively countering Islamist extremism but continue to experience abuse and denigration from both Islamists and the Far Right. The deliberate conflation of Islam and Islamist extremism is a common tactic employed by both Islamists and the Far Right.
Most concerningly, some on the British Far Right appear to be benefitting financially from promoting hatred by receiving substantial funding from overseas. In contrast, grassroot counter extremism organisations struggle to receive even small amounts of funding to push back against hate or to deal with the consequences of these well-paid, "professional" extremists. We want to change this, to make sure these groups get support, whether to challenge the Far Right or others.
A few weeks ago the Commission launched an intensive evidence gathering phase with the aim of producing a study on extremism in our country. Understanding how to better challenge the threat posed by modern day extremism is a key part of this. The use of "free speech" by the far right for example, is a smokescreen to instead promote hatred and bigotry. Free speech, as the law in our country makes clear has never been limitless, yet too often those boundaries are ignored by the far right who not only lack understanding of freedom of expression but also how to use it responsibly. Islamists on the other hand attempt to curtail legitimate debate about Islamist ideology, by erroneously stating 'Islamophobia.' We at the Commission believe we need more counter speech, more conversation, more critiquing of extremist ideologies but through constructive and good debate and in an environment that is civil.
We recognise a fundamental step change is needed in our response to extremism and in building an inclusive, positive and pluralistic vision for our country. This ultimately requires a whole society response - both top down and bottom up. These are just some of the issues and solutions we'll be looking at as we draw together our study.